How can I reuse or recycle cardboard banana boxes?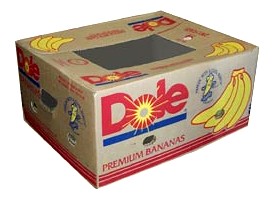 We've had an email from Iain Porter in which he tells us about the wonder of banana boxes from supermarkets for moving houses:
Supermarkets appear to be more than happy to give away boxes. I made a trip each morning of our packing and got about 20 Banana Boxes – big enough without becoming too heavy, rectangular for neat storage, with optional lids – perfect.
Indeed they are – last time I moved house (about eight years ago now, cor! that's ages!) I used them and we used another load when helping a friend move earlier this year. With the lids, they're really quite strong so ideal when the movees are booklovers like we are or when they need to be stacked for storage during transit.
But when, about two years after moving in, I finally finished unpacking all my books, I didn't really know how to reuse the boxes so just recycled the cardboard – but Iain has an idea for that too:
Rather than buy stylish new boxes from Ikea for storing jumpers etc., we covered the banana boxes with nice recycled paper for cheaper, friendlier, and even nicer results!
(And because there are ventilation holes in the side, the clothes etc. shouldn't get as musty or moldy as they would in a more sealed box.)
I'd tempted to get some for use on top of our wardrobes for our out-of-season clothes and might decorate them with the same wallpaper and paint as the bedroom for camouflage-a-go-go.
Any more ideas for ways to reuse them?
Related Categories
household
,
items
,
packaging
Search for other related items