How can I reuse or recycle banana skins?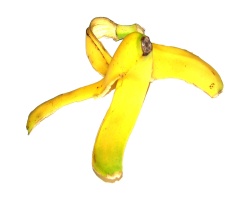 We've covered very, very brown bananas before but I was reading a Mrs Beeton-style book on home management from the 1930s the other day (as you do), and I saw a reference to using banana skins to clean brown leather shoes.
According to the hefty tome (which also includes chapters on engaging servants, etiquette for women and fortune-telling – all essential to the 1930s homemaker), rubbing the inside of a banana skin on brown leather shoes helps feed the leather. A bit of Googling seems to corroborate this and adds that the same idea can also be applied to silverware.
Any other cunning ways to reuse banana peel?
(We've covered orange peel before – that's got loads of reuses…)
Related Categories
food
,
household
,
items
Search for other related items