How can I reuse or recycle old (now empty) chocolate boxes?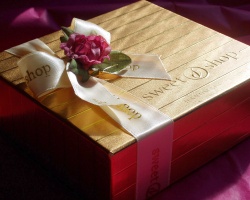 We've already covered a number of Valentine's Day type things:
And while we've thought about the wrapping on individual chocolates, we haven't thought about the chocolate boxes themselves.
Some of them – particularly the high end, Valentine's Day ish ones – are quite pretty and I've used them in the past for storing letters and the like. But what about other reuses? Have
Some boxes have formed plastic to hold the individual chocolates – like cake packaging – so it would be great if anyone had recycling ideas for those too.
Best Suggestions
Reduce: When giving chocolates (or buying them for yourself, mmm), look for packaging that's easier to reuse or recycle – perhaps a sturdy cardboard box or even a big tin of them?
Reuse: Use boxes for storing letters, craft supplies (boxes with compartments for individual chocolates are great for beads, buttons, screws & washers), or jewellery.
Use them again: Make your own chocolates, truffles or fudge as next year's Valentine's gift!
Recycle: Cardboard boxes can be recycled with paper and other light card (like cereal boxes) but remember to remove any plastic inserts and "windows" first. Metal chocolate tins can usually be recycled with tin cans.
(Photo by lynnc)
(Oh and hello people from i-am-bored.com! :) )
Related Categories
household
,
items
,
packaging
,
Valentines
Search for other related items