Like crafts using recycled things in the UK? Try Folksy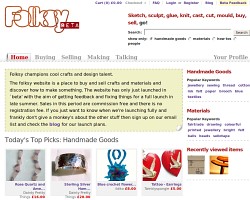 As I'm sure many of you great, tuned-in, turned-on people know, Etsy is wonderful – loads of homemade crafts available from a range of sellers in one very easy to search/browse place. Now the UK has its own version – Folksy.
It's only in beta at the moment so there isn't a huge amount of stuff on there yet – but it's nice for us Brits to easily be able buy items from more local craftsters and not have to pay (in financial and environmental terms) for getting stuff flown in from the US.
Like Etsy, it's not exclusively for recycled stuff but DIY crafters often drift that way – and if you search "recycled", you'll see there are already some things on there.
Definitely something to keep an eye.
Related Categories
art & crafts using recycled stuff
Search for other related items