How can I reuse or recycle pen lids?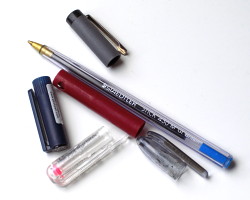 We've had another email from our wonderfully suggestive friend [Am]:
Due to a slow day at work on Friday I killed time by tidying out my drawers which seem to be black holes for all sorts for junk. What I discovered were about two dozen biro lids. After saving about nine for the numerous biros I also found in the drawer I was left with a collection of lids.

I don't want to just throw them out and I know most people don't even use the lids, once they're off they never see the pen again.

So, does anyone have any crafty or useful ideas for these or if not, can they be recycled?
I used to use them to accessorise blue-tac desk art or to chew when I was bored. I suspect neither the health and safety people or my dentist would approve of the latter though ;)
Better suggestions then?
(Unlike [Am]'s, my office drawer was surprisingly biro lid free and I couldn't find a photo of them on my usual stock photo site but hopefully you get the idea ;) )
Related Categories
household
,
items
,
office
Search for other related items