How can I reuse or recycle margarine tub lids/cream cheese tub lids?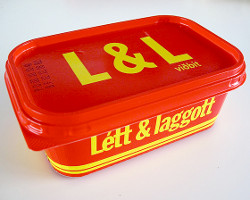 Whitney has emailed us, asking about margarine tub lids:
i'm trying to do my part and make sure that i recycle everything that i can, or at least find a way to reuse it. i recycle my #5 containers of cream cheese, margarine, etc, but have nothing to do with the lids, which even if they are also #5 they are not accepted in my recycling.

any ideas of what i can do with them? typically i just put them under plant pots, but i can only have so many plants. and i thought about making coasters, but i don't really use coasters, so i'm open to some new ideas!
When we get this type of tub, we tend to keep both the lid & the tub to reuse for leftovers instead of Tupperware or use as small storage boxes in other parts of the house (eg, we've got one for batteries, one for fuses and one for shoe polish in our misc cupboard). But there are a lot more uses for the tub part than the lids so I imagine there are a lot of lids going in the bin — let's see what we can do with them :)
Funnily enough, a lot of my ideas are the same as the ones from Monday's handicapped tags – add them to your tool box for use while decorating/painting, cut them up for plant markers in the garden, cut the rim off and shape the remaining plastic to use as a dough scrapper etc.
Anyone got any more original ideas though? :)
(Photo by cogdogblog)
Related Categories
items
,
kitchen
,
packaging
Search for other related items