How can I reuse or recycle plaster casts of feet?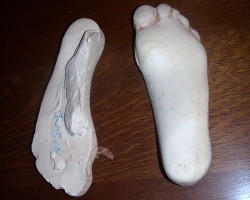 We've had a bit of an unusual suggestion from Estelle:
I once had these models made of my feet. They used them to generate orthotics for my flat feet. Now I have these cumbersome, heavy plaster-of-paris models sitting around at home… What can one do with them?
I don't know how heavy they are but maybe paint them for funky bookends or doorstops?
Any other suggestions?
Related Categories
household
,
items
,
medical
Search for other related items