How can I reuse or recycle … a bag of plaster?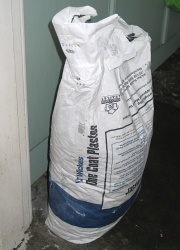 We had our leaky roof fixed last week and needed to replaster the leak-damaged part of the ceiling in the attic room. Our plasterer could only find giant bags of plaster for sale but it was only a small bit that needed fixing, so we've got about 20kg of powdered plaster left.
The plasterer said he won't be able to use it before it went solid so he left it with us: we figured we'd be able to get rid of it one way or another.
I've put it on our local Freecycle group with the hope that someone can use it but if it doesn't disappear down that route, anyone got any suggestions on how we can reuse or recycle it in the next few weeks? Or does anyone know any way to stop it going solid – will an airtight container suffice?
According to the bag, it's "one coat plaster" that is "suitable for most internal surfaces" but we have no internal surfaces that need plastering. Can it be used for craft things or is that a whole different type of plaster?
Related Categories
household
,
items
Search for other related items