How can I reuse or recycle big cooking oil cans?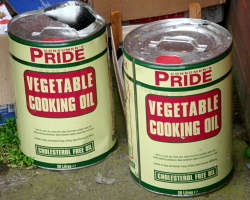 Around our area, it's unusual to see a take-out place without empty big cooking oil cans outside.
Hopefully they're recycled as part of a commercial doorstep recycling programme but most of time it seems like they're going to landfill – here they were next to a skip filled with other random rubbish. Very frustrating.
If we took some of them, what could we do with them? I know after intensive cleaning, crude oil barrels can be made into woodburners/rocket stoves and barbecues – could these essentially big tin cans be used for a similar thing on a smaller scale or is the metal not heavy duty enough?
With the top taken off (and the edge made safe), I imagine they could be turned into planters for the garden – albeit ones that might rust over time.
Any other suggestions?
Related Categories
household
,
items
,
packaging
Search for other related items