How can I reuse or recycle … contact lens containers?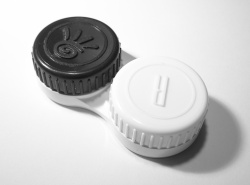 A suggestion from Jo:
My husband and I are both on a monthly contact lens package. We are accumulating vast numbers of lenses cases which I do not have the heart to just chuck in the bin! There must be something you can do with them other than make salt & pepper containers for when you go camping!
I await inspiration!
I'm a glasses gal so I haven't faced this problem – but I'd love to hear if other people have used them for anything or if anyone's got any suggestions : )
(Photo by jocan)
Related Categories
bathroom
,
items
,
packaging
Search for other related items