How can I reuse or recycle … DVD cases?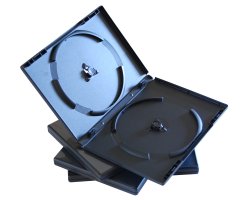 The suggestion–tastic Am (aka Delusion) has been in contact again:
Me again! The company I work at has just got rid of a number of software sets. The CD discs are shredded and recycled as it's confidential waste however the DVD style boxes are not taken.
Is there anything they can be used for? I have used a few to replace damaged DVD cases I have but other than that, I'm a little stumped! If they can't be reused, how about recycled?
I suspect a lot of the suggestions – like giving them to your local library – will have been covered in the CD case post from last year – but any DVD-case specific suggestions?
(Photo by heltje)
Related Categories
household
,
items
,
packaging
,
technology
Search for other related items