How can I reuse or recycle cassette tape cases?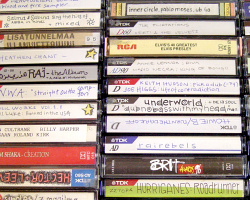 We covered audio tapes on the site a long time ago but we've had an email from Mark about the cases:
I have someone who wants the cassette tapes, but does not want the boxes they come in.

I am sure the material is the same as CD jewel cases, so would you be able to recycle that?
A number of companies recycle CD jewel cases so they might accept cassette cases too – see our post on the jewel cases for more information. There are also some charities still using audio tapes for spoken newspapers and the like – they might welcome a batch of cases in good condition to replace broken ones, as might libraries who still stock tapes as well as newfangled media.
Aside from that, how about reuses? They could be used as a retro business card case or a credit card wallet. Or to mix the old and the new, you could use them to protect USB keys and memory cards instead of having them lose in your bag.
Any other suggestions?
(Photo by kerppu)
Related Categories
household
,
items
,
packaging
,
technology
Search for other related items