How can I reuse or recycle … unwanted chopsticks?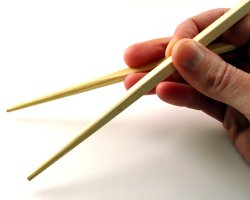 We've had an email from Carine:
I have huge chopsticks left from those Chinese delivery, since we usually don't use them… fork and knives do better !!!
So what can I do with them.
The first thing I would say would be to ask the take-out place to not include them with your order – reducing is always better than dealing with the waste afterwards. But that obviously doesn't address the stack Carine already has.
We're still using some plastic ones we got with a delivery a few years ago and I recently re-used some "disposable" bamboo ones to when creating a mini-greenhouse around a cutting – I put the cutting in an old clear plastic bag and used the chopsticks to keep the bag away from the cutting.
Any other suggestions?
(Photo by Penny Matthews)
Related Categories
household
,
items
,
kitchen
Search for other related items