How can I recycle (or possibly reuse) old work gloves?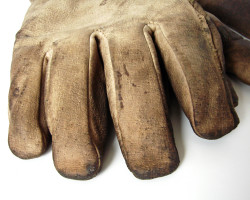 We've had an email from Derek asking about large scale recycling:
hello. i work in heavy industry and we use thousands of pairs of work gloves, most are thrown away when torn, but a lot are thrown away when covered in substances like oil or just dirt. could you tell me if these gloves could be cleaned and recycled or cleaned and used for other purposes.
I don't know for sure but I suspect the fabric of all the gloves, whether torn or not, could be reclaimed – shredded up to make insulation if nothing else. Anyone know for sure?
Any other ideas about recycling – or reusing them on a large scale?
(Photo by Penny Matthews)
Related Categories
clothes and fabric
,
items
Search for other related items