How can I reuse or recycle a unwanted solid deodorant bar from Lush?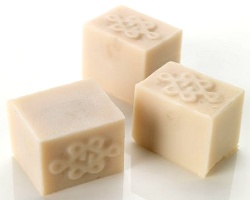 Kathryn has emailed us asking about reuses for a solid deodorant bar:
I recently bought a solid deodorant from Lush (this one). It smells nice, but it's not right for me. Other than using it to keep my sock drawer fresh, could I do anything else with it? The ingredients are listed as including chamomile vinegar, bicarb and essential oils, so I'm thinking I might be able to use it in some other cleaning function… crumble it into the washing machine?

Any thoughts?
Lush has a full ingredients list – and info about each ingredient – on their website — can any cosmetics experts give us their reuse opinion based on those? Most of the key ingredients are also used in their soap bars but I'm wondering if the combination of astringents in this bar might get in the way of cleaning power… anyone know?
I like the sock drawer idea – I also wonder if it would be cut in half and used as a deodorant in undesirably aromatic trainers. Any other reuses to take advantage of the nice scent?
What would you do with it?
Related Categories
bathroom
,
household
,
items
Search for other related items