How can I reuse or recycle old ashtrays?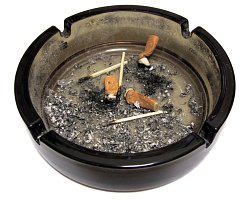 We've had an email from Michelle Grogan:
With the upcoming smoking ban in public places* almost on our doorstep, I was wondering if anyone might know anything about recycling ashtrays and if this can be done in a way to raise money for charity?
I suspect some will be yoinked by members of staff or regulars for use in their own homes but does anyone know about any recycling schemes for Michelle?
Or any fun reuses if anyone manages to snag a handful or more from their local?
(* From 1st July, smoking will be banned in all enclosed public spaces – including pubs, restaurants, private clubs and places of work – in England bringing the country in line with similar bans already in place in Scotland, Wales and Northern Ireland.)
(Photo by levi_sz)
Related Categories
hobbies
,
household
,
items
Search for other related items