How can I reuse, upcycle or recycle synthetic England flags?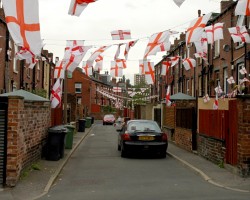 Our good friend Tim posted this question on Twitter yesterday:
Anyone have good craft ideas for a synthetic England Flag? There may be lots of them on the streets or landfills soon
There certainly will be! A4-ish size car ones, towel sized ones, super-sized ones… a whole lot of squeaky synthetic white fabric with a red cross on it — all of which will be instantly discarded as soon as the team are knocked out. (I'm speaking from experience about the disappearing – the photo was taken on our old estate by John during the last World Cup and they all disappeared the day after the losing match.)
Of course it would be great if everyone reduced – didn't buy as many (if any) or kept them to reuse for future events rather than buying new each time but that doesn't seem to happen.
So any reusing, upcycling and recycling suggestions?
Related Categories
clothes and fabric
,
household
,
items
,
sports
Search for other related items