How can I reuse or recycle hair straighters/flat irons?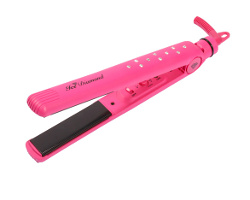 Over on the Suggest an Item page, Nicole has said:
I've had two straighteners/flat irons (to straighten hair) die on me. Is there a way to recycle these other than tossing them?
As a minimum, they should be collected for electronic/electric waste recycling – either at your local tip/"household waste recycling centre" or through an in-store take-back scheme (they take your old item when you buy something new from them) – all shops which sell small electrical goods (including phone shops & department stores) should in theory have a WEEE recycling scheme. Things taken for WEEE recycling are stripped down and their metals reclaimed, so it is worth doing.
But are there any reuses for them? As anyone who knows me/has seen a photo of me will know, my frizzy head is not exactly familiar with hair straighteners so I'm not sure I know enough about how they work to be able to suggest other reuses. Anyone got any ideas?
Related Categories
bathroom
,
household
,
items
,
technology
Search for other related items