How can I reuse or recycle LOTS of old furniture?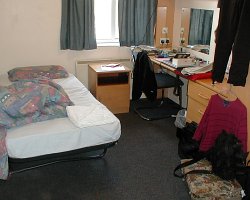 I've had another email from Sally Harrop:
We have a large amount of student furniture (beds, desks, lamps, chairs etc) to dispose of – 250 rooms worth. Can anyone suggest anywhere this may be usable?
Sally is based in Bradford and since I'm down the road in Leeds, I've already suggested a few local furniture charities to her: CHASBradford, Emmaus Leeds, and Poverty Aid. I know there are other smaller ones too but these seem to be three of the biggest furniture charities in the West Yorkshire area, so are probably more likely to be able to handle this large amount of furniture.
University accommodation departments and hotels around the country, indeed around the world, must find themselves in this position quite a lot. The obvious answer is for them to keep using the furniture until the end of its life but that's not always realistic in these situations for one reason or another. So feel free to suggest any links to furniture reusing/recycling charities – especially ones that can handle large amounts of stock in one go – and say what geographical area they cover, in case anyone else in Sally's position needs some inspiration.
(Photo by moria)
Related Categories
household
,
items
Search for other related items