How can I reuse or recycle a children's paddling pool?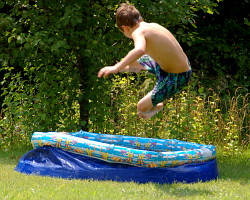 We've had an email from Amy, asking:
I have a large kiddie pool with a crack in the bottom that is not repairable. How can I recycle this?
She doesn't say whether it's an inflatable one (which are the most common type in the UK) or a more solid one – the "crack" suggests the latter – so feel free to make suggestions for either.
(We've covered smaller inflatables before and in a similar water-holding-thing-no-longer-holding-water, we covered fish tanks last week.)
(Photo by ssdg4773)
Related Categories
garden
,
household
,
items
,
toys
Search for other related items