How can I reuse or recycle used dryer sheets?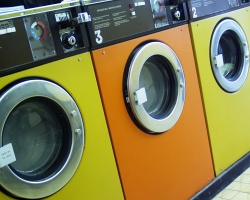 Wearing our Compost This hat, we had an email from Beth Schreiber asking whether tumble dryer sheets can be composted.
I might be wrong but I believe the sheets are usually synthetic – but whether they are or not, I'd still be dubious about composting them because of the various chemicals they contain to do all the softening and scenting stuff.
But if composting is out, what else can be done with them?
I realise that tumble drying has its own implications for the environment but assuming it's the only option, there is no point the sheets going to waste too. Beth's interested in hearing alternatives to sheets too if anyone knows of any.
(For those that don't know, the sheets are usually made of a thin material, about 20cm (8″) square and coated in chemicals to reduce static cling in the tumble dryer and to "freshen" the clothes.)
(Photo by solobirch)
Related Categories
household
,
items
,
kitchen
Search for other related items