How can I reuse or recycle cooking oil?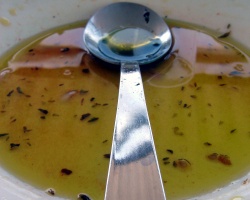 Colleen Christensen has asked:
Is there anything one can do with rancid cooking oil?
(I don't know how rancid she means by rancid but let's assume she just means used and therefore slightly icky – say oil or lard from deep frying – rather than full on bleugh.)
I know that commercial fryers can recycle their old oil (for use as biodiesel) but what about domestic chefs who aren't using anywhere near as much? And what about other uses?
Best Suggestions
Reuse: If it's still reasonably clean, you can use it to make soap. If it's too far gone for that or filled with impurities from frying, you might be able to use it to make wild bird feeders – or even to encourage critters to remove an old tree stump for you.
Recycle: Most household waste collections site (tips) in the UK collect cooking oil for recycling. Ask your local authority what the arrangements are in your area.
See the comments below for more suggestions and ideas
(Photo by float)
Related Categories
items
,
kitchen
Search for other related items