How can I reuse or recycle … old frying pans?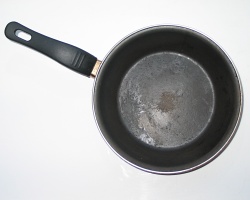 A couple of months ago, John read something about how poisonous Teflon is when it gets scratched and starts flaking – and immediately our two old frying pans were cast from the pan cupboard onto, well, the dining table where they've sat for the in-between weeks waiting for me to take a photo of them for use on here. I'm not the promptest girl in the world.
Researching it now, I can't find anything to support the poisonous claim – most sources say flakes will pass through the body without being absorbed but super-heated (237°C – the sort of hot hot heat you might use to fry up a thick steak) Teflon can give off dangerous fumes (particularly for birds in the vicinity – so no more letting the budgie cook up bacon unsupervised).
Either way though, these frying pans are a pain to cook with in their current state given they're half non-stick, half-stick. So any suggestions for bringing them back to life? (Is wire-wooling off the remain Teflon an idea?)
And failing that, reuses? recycling suggestions?
Related Categories
household
,
items
,
kitchen
Search for other related items