How can I reuse or recycle plastic milk bottles?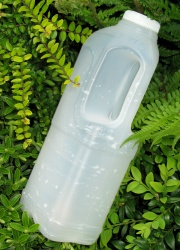 A few weeks ago, on the coconut shells post, I found a very cool way to reuse plastic milk bottles to make covered bird feeders for small birds (UPDATE – the link I had has stopped working, the next best one uses big milk jugs but the same principle applies to smaller bottles too, from a 2pint/1ltr upward).
But as we've only got one tree in the garden (and that's not really a tree, it's an overgrown bush which is very cat-accessible), I'd love to find out other ways to reuse them rather than just slinging them in the recycling bin.
Any ideas?

Best Suggestions
Reduce: Use a milk delivery company if available in your area – their glass bottles are sterilised and reused again and again.
Reuse: There are lots of reuses around the home and garden: whole, they're easy-pour storage for flour/other dry goods, as watering cans – or filled with water, exercise weights. Cut up, they can be used as scoops for dry pet food (or pet poop!), planters, slug traps and bird feeders.
Recycle: Most plastic milk bottles are made from HDPE – plastic number 2 – which is widely recyclable.
See the comments below for more suggestions and ideas
Related Categories
food
,
items
,
kitchen
,
packaging
Search for other related items