How can I reuse or recycle … brown paper?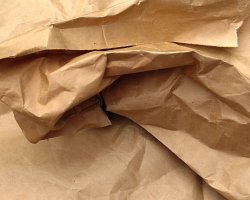 As I might have mentioned before, John and I write a geeky webcomic together and we sell geeky t-shirts based on jokes from the strip. We decided we'd only sell the tshirts if we could do it right and were lucky enough to find a printing company with a good ethical & environmental policy. We also send the shirts out in recycled envelopes or (for more orders of multiple shirts) in brown paper parcels because those one-off plastic posting bag things seem excessively wasteful.
We hope that our wonderful tshirt buyers recycle or compost the paper or envelopes but I thought it couldn't hurt to come up with a few more reuse suggestions. We've already covered envelopes so anything specific that brown paper is good for?
Jack and Jill used it, along with vinegar, to fix his head but away from the world of nursery rhymes, what else could it be used for?
(Photo by lusi)
Related Categories
household
,
items
,
office
,
packaging
,
paper & stationery
Search for other related items