How can I reuse or recycle fish heads and bones?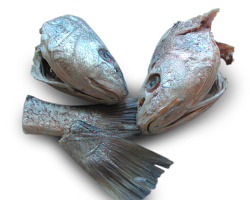 We've had a "Can I Compost This?" email from Wynn:
Can I compost fish heads?
The answer to this, like meat & animal products, is usually no. Unless you have a sealed composting system or the like, the odour of the fish might attracted unwanted vermin to your compost heap and unless your composting area is really far away from your house, it might get a bit stinky for you too.
But like other animal bones, you can though use fish heads and skeletons to make fish stock. There is often quite a bit of meat on the heads of bigger fish like salmon, so don't forget to save that: it can be used anywhere you'd use mashed up fish (salads, fish cakes, seafood risotto…) or in the stock to make a hearty soup. Like all stocks, it will freeze well if you're not going to be able to use it straight away and if nothing else and you've got cats, the stock will make you a firm favourite with your felines.
Any other suggestions of things to do with leftover fish bits?
(Photo by mama)
Related Categories
food
,
items
,
kitchen
Search for other related items