How can I reuse or recycle an old fish tank?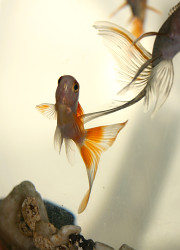 We've had an email from Tracey about reusing an aquarium:
My boyfriend's fish recently all went away to fishy heaven and now he has a ten gallon fish tank now sitting in the basement until we can figure out something to do with it, we could just give it to value village or goodwill or something but I thought it would be neat if there was something we could make out of it. Thanks!
Poor Tracey's boyfriend's fish :(
We've actually had two fish tanks from Freecycle over the years – both cracked ones so no good for fish but used for John's brother's suitcase gecko – so Freecycle might be an option along the lines of "value village or goodwill".
But how about reuses? It might be a bit heavy to be used as a general storage but flipped upside down it could be used as a mini-greenhouse (although venting might be a problem).
Any other suggestions?
(Photo by kraaft)
Related Categories
hobbies
,
household
,
items
Search for other related items