How can I reuse or recycle plastic toy holding eggs/balls/bubbles?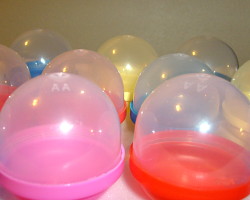 From the subject up there, you may guess that I don't really know how to describe what Sarah is asking about. Her email should be a bit more informative:
I have a lot of these plastic bubbles that holds those cheap toys that you get out of those quarter machines in the front of grocery stores. My local grocery store give the kids free "HEB bucks" that they then use to collect the plastic bubbles from the skill crane, inside the bubble is a sticker worth a certain amount of points…. ANYWAY, we get TONS of them.

Every once in a while the store will trade a certain amount of bubbles in for those really nifty reusable cloth grocery bags for free.

However I was trying to think of OTHER creative ways to use them as well. I think one good use would be as storage containers for your condiments when bringing your lunch to work or school. Any other ideas?
I love that the shop already has a recycling scheme for them – yay that shop – but they do seem like one of those things that would be great to reuse.
Depending on how water tight they are, I guess you could use them to make snow globes or, conversely, teeny mini-greenhouses.
Other suggestions though?
(Photo of Sarah's pod collection by the lady herself)
Related Categories
items
,
packaging
,
toys
Search for other related items