How can I reuse or recycle electric toothbrushes?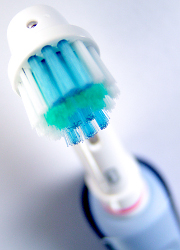 We've had an email from Georgina:
Where can i recycle electric toothbrushes? What about the replaced brushes?
Electric toothbrushes are covered under Waste Electrical and Electronic Equipment (WEEE) Regulations so should be recycled in designated WEEE bins at tips etc. The replacement heads almost certainly won't be covered by that though – perhaps some of the reuse suggestions for normal toothbrushes would work — the ideas where you don't need the full length handle.
Any specific reuse or recycling ideas for them though?
(Like with everything, do think about the most important of the 3R's before buying a new one – reduce. Do you really need an electric toothbrush instead of a manual one? If so, a mains powered one (assuming you have mains power in a suitable place) may be a better buy over a rechargeable one – the rechargeable ones tend to be sealed units for waterproofing and once the battery goes (which it invariably will), the whole thing has to be thrown out unless you're very good at fixing things.)
Related Categories
bathroom
,
items
Search for other related items