How can I reuse or recycle … pump action sprays?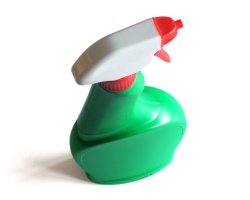 I realise yesterday's post on aerosols would be mostly recycling rather than reuse, but how about a similar item that has more reuse potential – pump action sprays?
We've got a number of old pump action spray bottles around the house – from old cleaning products and from a body spray that I use from time to time – and they can all be refilled and reused, but we've used up all our ideas about what to put in them and still have a stack of spares.
So any suggestions what would be useful to have as a spray/mister that doesn't already coming with its own pump spray?
Related Categories
bathroom
,
household
,
items
,
kitchen
,
packaging
Search for other related items