How can I reuse or recycle the bottoms of fizzy drink bottles?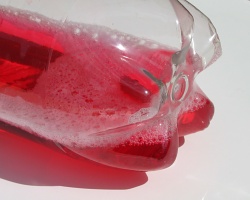 We've had an email from Kate Parsons with a clever idea for using the bottoms of fizzy drink bottles:
I use the bottom 3 or 4 inches of a 2 litre plastic coke bottle to make drawer tidies at work for all my paper clips, staples, etc. You can keep them in place by stapling them together or with a blob of blutack on the bottom!
A great idea and it made me realise that while we've covered a large range of different types of plastic bottles (eg, milk, squash, shower gel, shampoo, miniatures ones, pump action ones, and water, water cooler and hot water ones), we've not looked at pop bottles – and their blobby-shaped bottoms – in particular.
So any specific uses for the bottoms of those bottles? Anything else the separate compartments can be used for? Suggestions for any size bottle are fine.
Related Categories
household
,
items
,
packaging
Search for other related items