How can I reuse or recycle pump action bottles?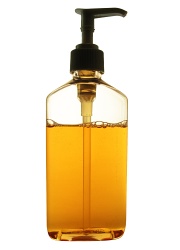 We've had an email from Katerina. She's been busy posting lots of useful comments around the site lately – including on the pump action spray page – but she's got a suggestion that's just a little different from that:
My boyfriend has an eczema and he uses a lot of emollient, creams and liquid soap that comes in pump dispensers, some specialised emollients come from pharmacist in VERY big bottles with pumps. As you can imagine – he goes through a lot of them, and I think of the ways to re-use them.
I keep dreaming of how good would it be to be able to have stations in pharmacies and supermarkets to re-fill your pump dispensers (but obviously – this is too much to ask for).
The two organic shops near us allow you to refill Ecover pump bottles in store with more of the liquid soap/washing-up liquid – but I don't know if you'd be able to refill other random bottles.
So any other suggestions?
(Photo by nyuszika)
Related Categories
bathroom
,
household
,
items
,
packaging
Search for other related items