How can I make "canvases" reusing or recycling stuff?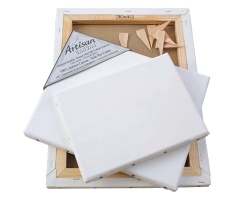 So, as I've mentioned once or twice, we moved into our new house three weeks ago.
I do apologise for mentioning it a lot but it's pretty much overwhelming my life at the moment – I'd lived in the last place for nearly a decade and hope to be here at least the same amount of time. It needs a lot of work doing to it – considerably more maintenance-type work than we'd thought (every floorboard creeks, every tap drips…) but also a lot to make it our own. It's a lot of work but mostly very satisfying.
As we're getting past the bulk of the "must do instantly" jobs, we're starting to combine chores and fun tasks and one of the fun tasks is filling all the blank walls with pictures and other creations. I'm definitely going to use a lot of the frame ideas you wonder people suggested when I was asking about mirrors a few weeks ago but I also wondered how people have made the actual surface to paint on – what works well instead of actual canvas? I imagine other lighter cotton such as t-shirt jersey or bed linen might be too thin to hold the paint but would denim from old jeans work as a heavy textured alternative?
I've heard about the underside of hardboard being a good surface. What else?
Related Categories
reverse this
Search for other related items