Fab recycled projects: bird feeders, storage bags, pot racks & more
It's been a few weeks since I shared some links so here are some of my favourite sightings and emails from the last month: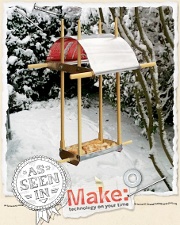 First up, it has to be Scott's coke can and chopsticks bird feeder – as always, a fab recycled item with very fun how-to instructions. Unfortunately (for us in the UK) the full instructions will be in Make magazine – but if you're crafty, you can kinda get the idea from the pictures/preview ;)
And sticking with gorgeous things in the Make/Craft universe, I love these denim storage bags – easy to make from the legs of old jeans — a perfect companion project if you're turning some jeans into cut-offs this summer :)
I also love these sweet packet purses/pouches. I wonder if clear plastic bags could be fused onto the packets rather than having to use iron on vinyl…
As a fan of both buttons and nature, I think these buttons from twigs are great too. As the how-to explains, it's a little tedious to cut them all with a handsaw but if you just want a few and don't have a table saw, then it's still a viable project.
And speaking of the great outdoors, I'm planting out a lot of stuff at the moment. I've been using sliced up plastic bottles, drinks cans and other packaging for plant markers but these labels – made from skewers and wine corks – are very cute too.
Roo has turned an old nightstand/chest of drawers into a unique and fun doll house – just a little handy work is needed before the fun decorating starts!
Shopping lists save money & food waste but our lists and pens tend to wander from our kitchen noticeboard — they wouldn't if we had one of these. The similar pretty wood backing/bulldog clip/elastic band idea would work well with reclaimed scrap paper as well as a new roll.
And finally, I had an email from Jackie: "I recycled this awning frame by making it a pot rack. A little bit of chain and I hooks and s hooks bring it all together" — looks great and super practical, great work.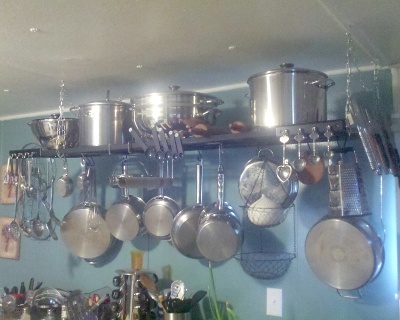 Related Categories
links
Search for other related items