Recycling old jeans into bags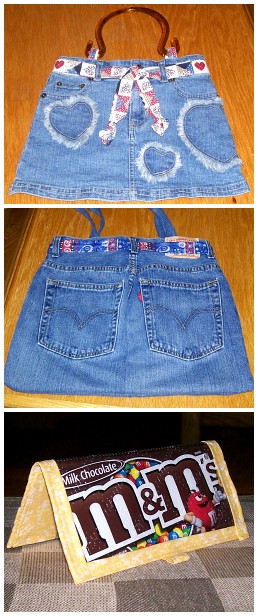 We had an email from Lori the other day about the bags and things she makes out of old jeans.
You can be a "jeanius" like me, too!! RECYCLE!
As lover of both recycling and puns, how could I resist? ;)
Her range includes bags and accessories just using the fabric and items more obviously a former pair of jeans/denim skirt – ready-made pockets = win!
She also has some random fun things for sale – like this cheque book sleeve made using an old M&Ms wrapper. I think this is very cute and fun but unfortunately now have an insatiable desire for sugar-coated chocolate treats. Thanks Lori, thaaaaanks. :)
Anyway, you can find Lori's things at http://loriforney.etsy.com
Related Categories
art & crafts using recycled stuff
,
clothes and fabric
,
items
,
packaging
Search for other related items