How can I reuse or recycle old coins?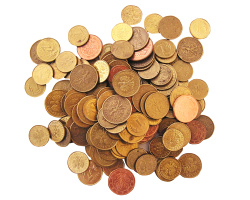 After an idea sparked by [Am] last year and added to by Alice last week, I've started adding 'Top Tips' boxes to the most popular Recycle This pages (the ones with loads of comments) to highlight the best suggestions for reducing, reusing and recycling. It's pretty time consuming but lots of fun, re-reading all the great suggestions that have come in over the last 3.5 years — you guys are wonderfully creative and inspiring! you're awesome!
Anyway, while I was doing the old keys one the other day, I saw that the British charity, Guide Dogs for the Blind collect old house keys as a fundraiser – and they collect old coins too.
Like old stamps, certain ones are obviously highly collectable but there must be a lot that aren't quite so popular – all those bogstandard 5pences and 10pences that were replaced in the 1990s for example.
Any creative or practical suggestions of things that can be done with them? Any other charities that collect them?
I also used to know about half a dozen charities who collect leftover change from overseas excursions but can't think of any of them right now – anyone know of any?
Related Categories
household
,
items
Search for other related items