How can I reuse or recycle phone books & Yellow Pages?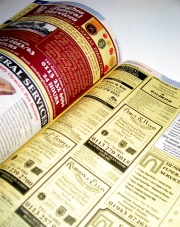 Now that the lovely internet is here for our every need, I can't remember the last time I used a phone book. But still, every year or so we get phone books, Yellow Pages, Thompson directories…
They sit on our shelf for a little while, gathering dust and taking up space, then, during one of his many ill-timed cleaning frenzies, John will suddenly want to get rid of them and won't rest until they're out of the house or at least relocated to somewhere not in his frenzy path.
So any ideas on how we could reuse or recycle them? What do you do with them?
Best Suggestions
Reduce: Opt-out of receiving them in the first place if you can. In the UK, you can opt out of receiving the Yellow Pages by calling 0800 671 444 and the BT Phone Book by calling 0800 833 400 – both free calls from landlines so there's no excuse!
Reuse: Use the pages instead of disposable "kitchen roll" for picking up … icky things (we use it for cat sick! ;) ). Shred the pages to use as protective packaging in parcels. Use with kindling to light fires for stoves, bbqs or bonfires. Use the pages to line the bottom of animal/bird cages. Use the paper as practise material for origami or paper planes. Use the books as a booster – to raise the height of your computer monitor for example.
Recycle: Most councils now accept phone books and Yellow Pages for recycling. Check with your local recycling team if you're unsure about the arrangements in your area.
Related Categories
household
,
items
,
office
Search for other related items