How can I reuse or recycle damaged books?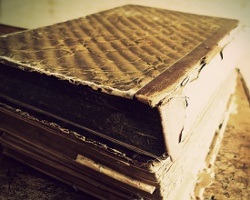 As I mentioned on The Really Good Life earlier today, I'm having a bit of an unplanned book buying month this month so I've decided to have an equally hitherto unplanned book themed week on both sites :)
Thinking about books reminded me about an email I received a while ago (but can't find at the moment) asking about whether water damaged books can be recycled. Even though they're nearly entirely paper, the glue used to bind books can sometimes cause problems along the recycling chain so don't assume they can be added to normal paper recycling bins – check with your local council/the company that collects the bin first. They can be composted though if you have a compost heap at home – tear them up and add alongside plenty of "greens" if you want them to rot down quicker. On a similar destructive vein, my friend Strowger assures me they burn very well, for a long time, in woodburning stoves, although I'm not sure I could bring myself to burn even a damaged book!
Most people I know get clear out their books by giving them to charity shops – but most charity shops, particularly large chain ones, only want them in a very good, sellable condition so they can charge a decent amount for them. People who do carboot sales or run adhoc jumble sales etc are often slightly less discerning (since they generally have less overheads so can sell them cheaper to offset the condition) – I regularly see boxes of books given away on Freecycle/Freegle labelled as "ideal for carbooters" so that might be an option if the books are still readable and you don't fancy selling them yourself.
Hardback books – particularly ones with interesting, pretty or retro covers – can be recycled into folders for papers or notebooks (I'll post some links to how-tos in a "upcycling books round-up" tomorrow). Other people scavenge undamaged pages from old books to use for papercrafts or artwork.
Anyone got any particular reuse, recycling or upcycling suggestions for damaged books, or their parts?
Related Categories
hobbies
,
household
,
items
,
paper & stationery
Search for other related items