Turning books into art: our favourite practical & pretty upcycling ideas for old books
We're having a bit of a book-themed week here on Recycle This and I thought I'd share with you some of my favourite reusing/recycling ideas – inspiration, how-tos and thing to buy if you're not the crafty type yourself.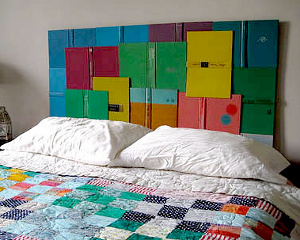 As I mentioned yesterday when talking about damaged books, it's easier to revamp or reuse hardback books for practical purposes because they're that bit tougher. They can be used for everything from statement bed headboards to "floating book" shelves.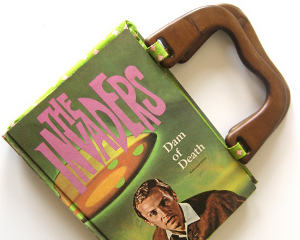 On a smaller scale, they can be turned into purses/handbags, clocks, self-supporting photo frames, notebooks, iPhone charging units – and even table legs.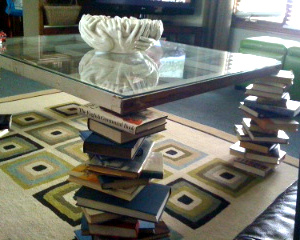 @AlishaAnnn told us about the table below on Twitter yesterday: "Table legs from recycled books with a metal rod through. They are sturdy and spin. Old barn window on top." Great recycling!
That's not to say paperback books aren't without their reuses – their relative flexibility is an asset for things like this card wallet: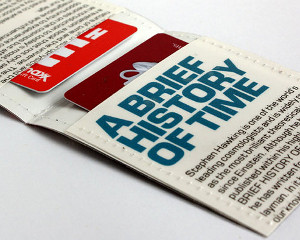 Other people prefer to use the pages of old books: either as art in themselves or as canvas for printing/painting, to decorate greeting cards, envelopes, super retro bunting or, on more elaborately, this fantastic paper wreath.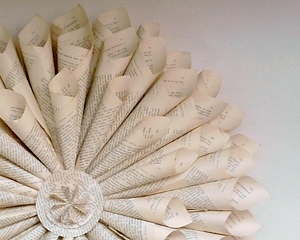 And BellwethersDB on Twitter had a good few ideas for using the pages too: "Tear out the pages and print vintage images on them and frame them! So pretty", "Tear the pages and mod podge them onto old ornaments, add glitter and a ribbon. Voila! A "new" ornament!" and "Paper beads! Then paint them and string them on ribbon." @_jennifergrace_ also tweeted us to say she'd used book pages as the background for welcome cards & name badges for a hen weekend, to make her own ideas notebook and as part of a bigger art project.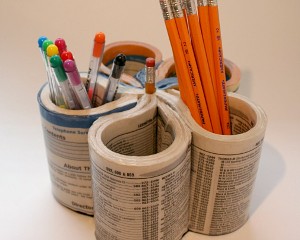 And speaking of pages, this desk tidy is made with a phone book but any oversized book – old annuals or craft books – would would just as well.
Finally, Alice in Blogland sent us a link to this fab recycling books for booklovers story, such amazingly intricate work!
Have you seen any other great example of reusing, recycling or upcycling of old or damaged books? If so, let us know in the comments!
Related Categories
art & crafts using recycled stuff
,
hobbies
,
household
,
paper & stationery
Search for other related items