How can I reuse or recycle … um, an expandable thingy?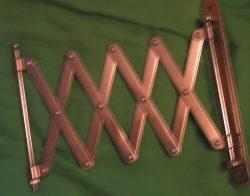 A suggestion for Bev:
I bought hubby a shaving mirror as a hint but as a hint back, he accidentally (or so he says) broke it while putting it up. So now, while we had to bin the smashed mirror, we still have the expandable bit that holds the mirror against the wall. I've sent a not very clear picture so show what bit I mean.
It looks so useful and I sit in the bathroom expanding and contracting it wondering what I can do with it but nothing is coming to mind. So I realise it's probably a bit obscure and only good for me, but have you got any suggestions?
Also suggestions for a name for it would be awesome too because "expandable thingy" is the best I can come up with : )
Related Categories
items
Search for other related items