How can I reuse or recycle mirror tiles?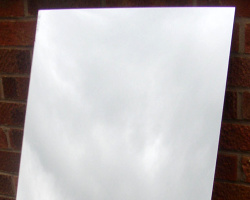 There were four 30cm by 50cm frameless mirror tiles on the bathroom wall when I moved in but given there was no storage, I quickly (read: three years) replaced them with a cabinet instead.
Since then, the tiles have been floating around the bathroom/bedroom/hallway storage locations, waiting for us to reaffix them somewhere or get rid of them (neither of which has happened). We have enough mirrors around the place for when you're as fugly as us and they're not in great condition (bits of the mirrored backing having come off in various spots, particularly near the edges) anyway so we haven't got around to re-using them as mirrors.
But what else can their reflective properties be used for instead? They're essentially sheets of glass with a mirrored backing by the look of it – reasonably sturdy but not invincible. Any suggestions?
Related Categories
household
,
items
Search for other related items