How can I reuse or recycle … out of date condoms?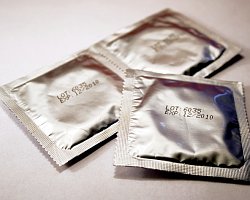 Had an email from Tom Beaumont, who has found some out of date condoms in the back of his bathroom cabinet.
I don't fancy risk using them for their intended purpose for obvious reasons but thought you might be able to come up with some other suggestions!
The first thing that springs to my mind is testing whether the boiled condom over a phone box thing is an urban myth or not – but that's not terribly practical (because a. it's pointless really and b. phone boxes are hard to find these days).
Any better suggestions?
(Photo by Wazari)
Related Categories
hobbies
,
household
,
items
Search for other related items