How can I reuse or recycle broken mirror fragments?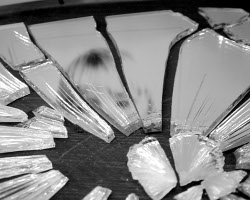 We've already covered whole mirror tiles but Claire has asked:
Can a broken mirror go in the glass recycling bin?
I suspect not – most glass banks I've seen stipulate they can only take standard bottles and jars, not sheet glass or pyrex or the like.
While there is obviously a safety concern (wear tough gloves, be careful), you could reuse the pieces in crafts and around the home. Like the whole mirror tiles, big pieces made safe could be used to reflect more light around the greenhouse or garden, hand-size pieces could be used for pocket mirrors (I've seen pictures of people who've used foam or soft modelling clay around the back/edges to make them safer and more durable) and little pieces can be used for mosaics.
Any other suggestions?
Related Categories
household
,
items
Search for other related items