How can I make a pair of slippers/house shoes using recycled stuff?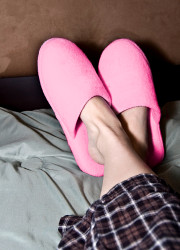 We've had an email from Kate:
i want to make a pair of slippers for my boyfriend for his birthday. he's really into green stuff and i'm broke (back at uni!) so i thought i'd make them but don't know where to start. any ideas?!
After making booties for our niece Mia a few years ago, I got excited about making supersized booties for us but never got around to it, and that's more knitting than recycling anyway (unless you've reclaimed the wool). (On that topic, I also have this "dorm boots" pattern in my "growing and eating and making" bookmarks folder from when I was looking for a pattern for Mia.)
Away from knitting, you can make them out of towels or misc woollen fabric (like a blanket or an old jumper).
John also made himself some "outside slippers" from a pair of old comfortable but battered trainers – we wear socks around the house but he needed something he could slip-on for running out to the bin or going into the sometimes-damp cellar. He just chopped the back out of the shoes to make mules and sewed up the rough edge.
Any other suggestions? Or hints on how to get started?
(Photo by prototype7)
Related Categories
clothes and fabric
,
hobbies
,
items
,
reverse this
Search for other related items