How can I reuse or recycle old shoes?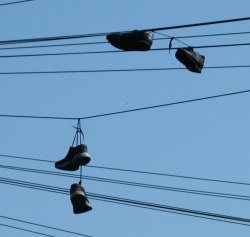 We've had an email from John K:
I wonder could you help me with an issue I have with disposing of old footwear. I know there are some programs that accept old footwear and the different parts are separated and some are recycled as astro turf, basketball court surfaces and the like. If you do not have access to such a program, what can you do with your old footwear? I live in an apartment so using them for outside activities like gardening can not provide the solution.

I asked this question on my blog last month but nobody left a comment, I'm hoping your readers can come up with some interesting solutions.
We have a similar problem – if they're in good condition then we charity-shop or freecycle them, but you only need so many pairs of scruffy decorating/gardening shoes. So anyone got any suggestions?
Any details of the programmes John K mentions would be great too.

Best Suggestions
Reduce: Buy good quality shoes to start with – and make sure you try them on the shop. Pick shoes that you'll wear for years instead of fashion ones that will fall apart.
Reuse: If they can be reused, let someone else reuse them as shoes – give them to a charity shop or organisation that takes them for redistribution overseas.
Recycle: Many charity clothes bins often accept battered old shoes – they're broken down and the parts recycled as appropriate. Charity shops might be willing to accept them for the "rag man" too.
See the comments below for more suggestions and ideas. Particular types of shoe are also covered in other posts.
(Re: the photo. I received the email from John K first thing yesterday morning then, while walking to the shops at lunchtime, spotted that a pair of shoes had been thrown over a telephone wire near my house. When I went back to take the picture mid-afternoon, another pair had joined it. On one hand, a waste of perfectly good shoes; on the other hand, a very conveniently timed photo opportunity for me…)
Related Categories
clothes and fabric
,
items
Search for other related items