How can I reuse or recycle high heeled shoes?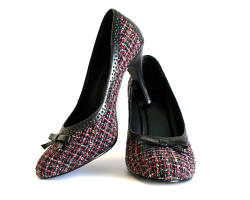 We've had an email from Naomi:
I've got loads of old shoes that I no longer wear but they're not suitable for use as "dirty shoes" in the garden or whatever because they're got stiletto heels. What can I do with them?
We've covered old shoes before but I guess high heels are a bit different because they're only good for aerating the lawn ;)
Of course the obvious suggestions are to pass them onto someone who'll wear them – through Freecycle, local charity shops, eBay etc – or put them into a shoe recycling scheme so the materials can be reused and recycled.
But what about other ideas?
(Photo by kymmie_xox)
Related Categories
clothes and fabric
,
items
Search for other related items