Upcycling leather jackets into shoes, pill bottles into knitting spools & an old kitchen into art work
Some more news/links from my inbox that I thought may interest you guys: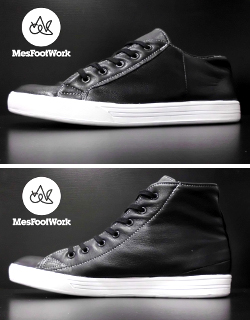 Matt from Mes Footwork has been in touch to tell us about their new range of upcycled trainers: "We make shoes in Newcastle from recycled leather jackets (or any other item of clothing). The jackets are usually bought in charity shops, or people can send us their own. A cycle of recycling, giving back, ethical production and fashion." Good to see upcycling – and ethical shoe production in the UK.
Annette emailed to say "I have recently posted an article called How To Make A Recycled Asprin Bottle Knitting Spool. The article is a short tutorial on converting a small plastic bottle into an old fashioned knitting spool. I believe your readers may enjoy learning the technique." I believe you guys may enjoy learning about it too ;)
The wonderful Alison Bailey Smith is working on a new project at the moment – "de-junk, re-junk":


We are about to embark on kitchen extension which means demolishing the old 70's utility room and gutting the kitchen, so I have been tidying and removing what I can in preparation for the building work…coincidently I was asked again by my two helpful guys seconded to Wirral Council to organise and exhibition for them (I helped with one last year) so have used my de-junking to provide materials to artists from the networking event I run "With These Hands" and wider afield in Merseyside and told them to go forth and create for the show. We plan to display the work on hollow doors and cabinets transformed into plinths etc.

She is also currently working with the local Mayor's office to recreate the Mayor's chain and badge of office from recycled materials. More info and pics on her blog.
Related Categories
art & crafts using recycled stuff
,
clothes and fabric
Search for other related items