How can I reuse or recycle an acrylic sweater/jumper?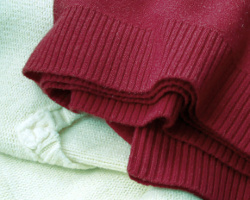 We've covered wool jumpers/sweaters on the site before now – what to do with them when you accidentally shrink your most favourite jumper ever in the wash. But what about acrylic jumpers? They don't get ruined in the same way but cheaper ones tend to lose their shape and look a bit washed out over time. That's the position I'm in now with a few things from before I brought in my "at least 50% natural fibres" rule (in practise, it's usually a minimum of 80%) – they're approaching the end of their wearable life even by someone as scruffy as me.
Since they can't be felted (either accidentally or on purpose), they can't be used for a lot of the same reuses as wool jumpers – they're too thin (and anyway, not heat resistant enough) to be turned into a pot holder or something like that, and I don't think they'd be absorbent enough to be used to make a soakers/nappy covers for babies.
If they were prettier jumpers & cardigans (rather than just boring one colour ones), I could use the less washed out ones to make a cushion cover – I love the stripes and matching stripy draught excluder in that tutorial and actually, that's another idea – I could use the arms to make a draught excluder, stuffed with the shredded material from the body. But what else could I do with them?
Have you reused, recycled or upcycled acrylic jumpers in any interesting, practical or fun ways?
Related Categories
clothes and fabric
,
items
Search for other related items