How can I reuse or recycle giant holey foam things?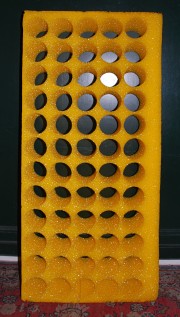 We've had an email from Petra:
From a party project, we have left two big foam "things" with holes in it. See the picture included. They measure 108 by 47 by 18 (in centimeters). The holes are large enough to hold a winebottle. But the foam is quite soft, so it's not safe enough to make it into a hanging wine rack.

I thought about it being playing items for the kids in the garden, but any better ideas are more than welcome.
The bright colour, softness and chunkiness make them feel very much like something for kids – one of those things that if we'd had it as a kids, we'd have come up with a thousand different play uses for it. If you have a few, another kid-related thing might be to string them up as hanging dividers in a bedroom – such as between the sleeping area and the playing area, or to give kids a little privacy/sense of their own space in a shared room.
Aside from that, if you could find boxes big enough to hold them (under bed storage boxes maybe?), they might be useful for keeping glasses or bottles safe during a house move (if you're not moving, someone on Freecycle probably will be!).
They also could be useful in the garden if you're growing a lot of seedlings – holding plant pots upright when they start to get a bit top heavy or if it's windy.
Any other suggestions?
Related Categories
garden
,
household
,
items
,
packaging
Search for other related items