How can I reuse coffee that's sat on the plate for too long?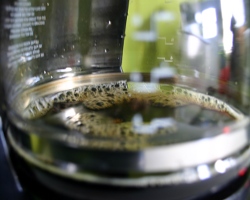 We've had an email from Iris:
We make a big jug of filter coffee each morning at the weekend but I regularly have to pour away the last cup or two away because it's gone bitter. Is there anything I can do to revive it or use it up some other way?
Of course, there is an obvious "reduce" angle here: just don't make so much. If that's not an option for some reason or if you still end up with dregs, as a minimum, the coffee (along with the grounds and the filter, if it's paper/cotton) should be going on the compost heap rather than down the drain – but that's a last resort. Some plants that like acidic soils might also like to down your last cup of joe once a week too (although watered down if it's got a bit strong on the hot plate, and it's had too much if the leaves start to yellow or go brown after a few weeks).
I don't drink coffee but do use it in cakes/desserts from time to time. I usually get my brewmaster (boyfriend) to prepare a fresh cup for me to use though as he makes (Aeropress) espresso and we don't have "spare" coffee. I'd imagine that any burnt taste in the coffee would be transferred to the cake/mousse etc too – but I don't know, perhaps the other ingredients would mask it — anyone tried that?
Any other suggestions for ways for Iris to use up that bitter coffee?
Related Categories
food
,
items
,
kitchen
,
water
Search for other related items